Please note this is a sample itinerary and some variations will happen between tours and locations due to our partners' schedules, but in general the itinerary will be very similar!
Day 1:
Hey there, adventure-seeker! You've landed in Cairns, your gateway to the breathtaking Great Barrier Reef. Drop your bags at your comfy accommodation and soak in the anticipation of what's to come. How about a leisurely stroll along the Cairns Esplanade to get your first taste of the tropical vibes?
Meals: Breakfast, Lunch  included
Day 2:
Ready to dive into the deep blue? Your PADI Open Water Diver course begins today! But don't worry, you'll start with some theory and pool training learning dive theory in air-conditioned classrooms and basic skills of scuba diving in the pool. Centrally located in Cairns city, our modern training centre features the deepest four-metre diver training pools in the region, ensuring a professional and safe learning environment.  Did you know that PADI stands for Professional Association of Diving Instructors? Get ready to dive into knowledge!
Meals: Breakfast, Lunch included
Day 3:
Guess what? You're back in the water today, but this time it's for some confined water training. You'll be learning important skills that'll make your underwater experience safe and unforgettable. Keep your eyes peeled for Nemo-like fish, because they might just pop by to say hi!
Meals: Breakfast, Lunch included
Day 4:
Then it's time to head out to The Great Barrier Reef for a three-day, two-night liveaboard adventure to become a certified diver! This will be your floating home for the next few days, where the ocean becomes your playground.
This tour gives you access to a variety of diving and snorkelling experiences across 19 exclusive Outer Reef dive sites over four magnificent reefs: Flynn, Thetford, Milln and Pellowe Reefs.
Between dives, relax in comfort on board one of the premium dive boats. These purpose-built liveaboard dive vessels feature air-conditioned twin or double cabins, spacious decks, WiFi, catered meals, and all the comforts of home. With small passenger numbers and close crew-to-guest ratios, a high-quality, personalised experience with dedicated attention from specialist staff is ensured at all times.
Meals: Breakfast, Lunch and Dinner included
Day 5:
Today's the day you slip on your diving gear and dive into the turquoise wonderland. Get ready for an up-close and personal encounter with colorful corals and a kaleidoscope of marine life. Feeling like a real-life mermaid or merman yet? Diving at different times throughout the day, you will be able to encounter an amazing diversity of marine life including giant clams, majestic sea turtles, graceful stingrays, reef sharks, an incredible variety of tropical fish and spectacular coral formations, with consistent underwater visibility. Night diving will introduce a whole new dimension of nocturnal sea-life.
Meals: Breakfast, Lunch and Dinner included
Day 6:
Drumroll, please! Today's the day you complete your PADI Open Water Diver certification. With open water dives under your belt, you'll officially become a certified diver. Your fellow underwater explorers will be just as thrilled as you are!
Meals: Breakfast, Lunch and Dinner included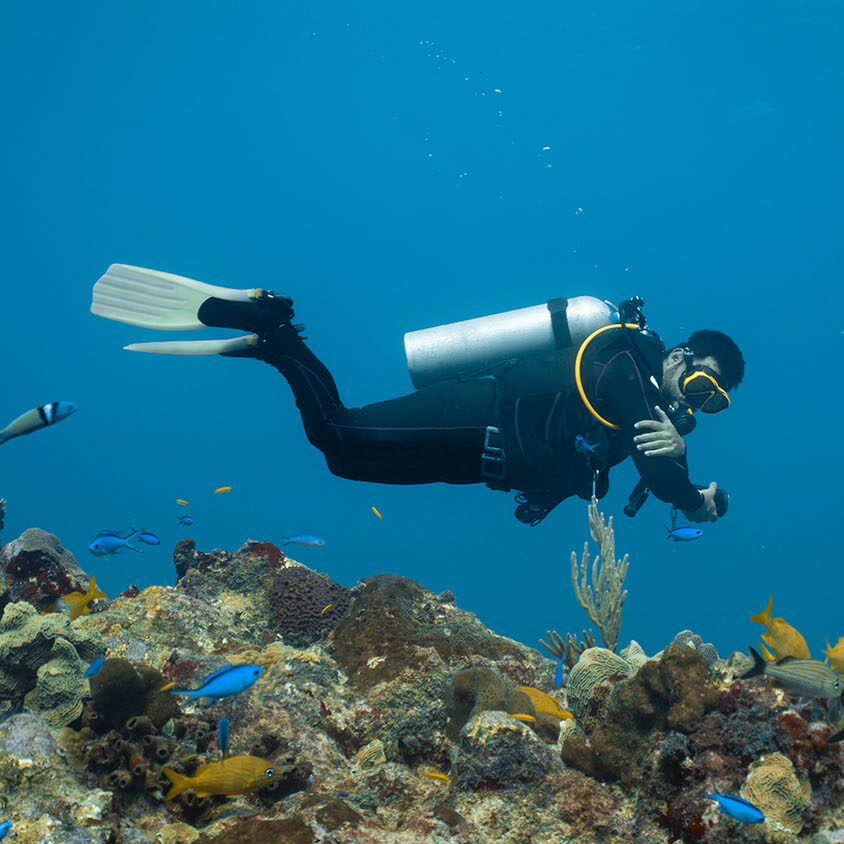 Day 7:
Say goodbye to the liveaboard and head to Cape Tribulation – where the rainforest meets the reef. Get lost in the lush greenery of the Daintree Rainforest, and as the sun sets, embark on a night walk to spot creatures of the night. Who knows what you'll encounter?
Meals: Breakfast and Lunch included
Day 8:
Adventure continues as you zip through the rainforest canopy. Feel the wind in your hair as you catch breathtaking views from above. Oh, and speaking of treats, don't forget to indulge in Cape Tribulation's famous ice cream made from tropical fruits. A sweet reward for your bravery!
Meals: Breakfast and Lunch included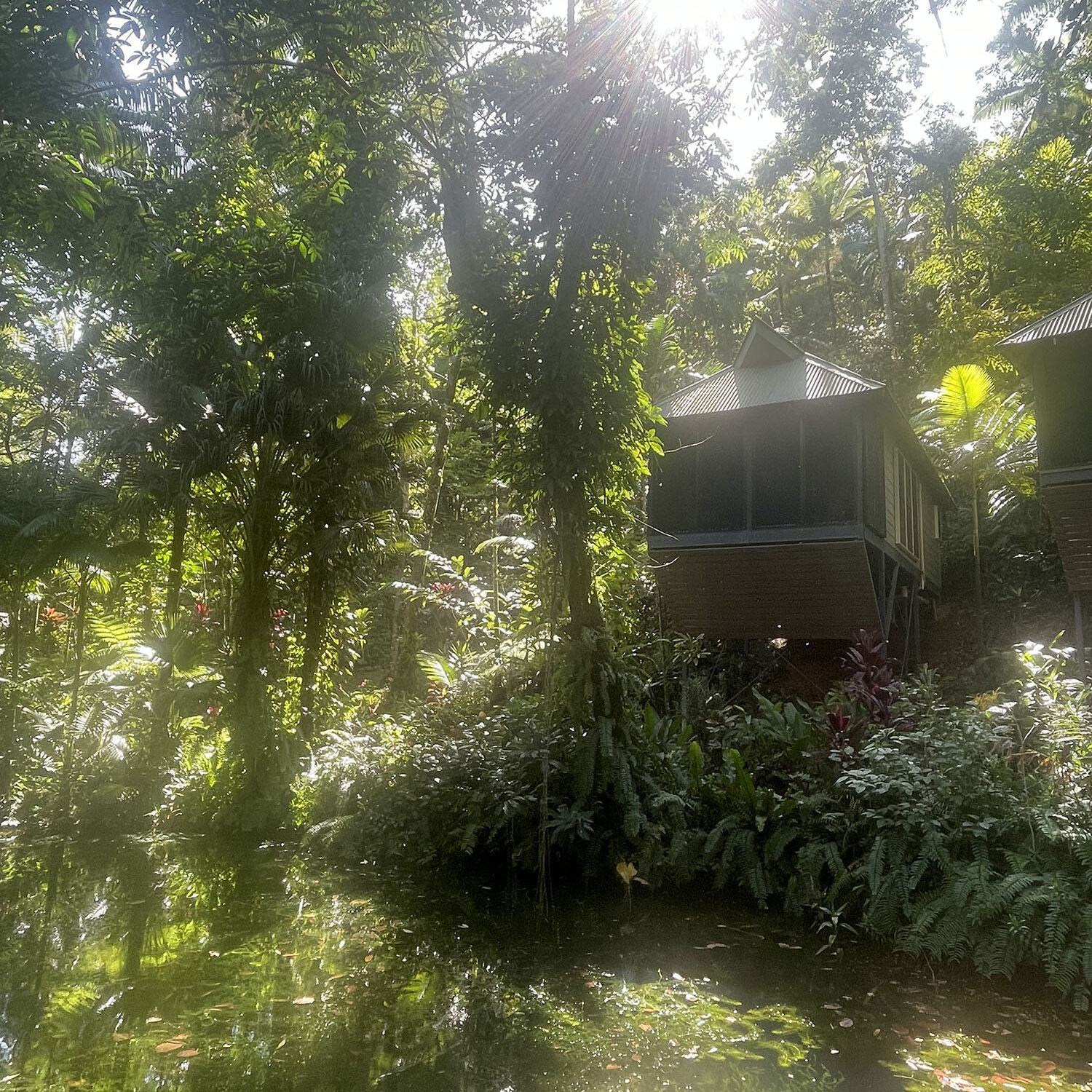 Day 9:
Early riser? Perfect! Hop on a sunrise cruise over the tranquil Daintree River. The calm morning waters and the rising sun create a picture-perfect scene. Then, make your way to Port Douglas for a dose of beachy bliss. Just you and the sea.
Meals: None included
Day 10:
Your journey is coming to an end, but there's still magic left. Relax on the sands of Palm Cove, basking in the beauty of the coast. Your farewell dinner awaits at a local Port Douglas restaurant – a toast to the adventures you've had and the memories you've made. Carry these moments with you as you bid adieu to the stunning Great Barrier Reef and the rainforest's secrets.
Meals: Dinner included
** Before commencing your dive course, you are required to complete the self-assessment Entry Level Student Diver Medical Declaration. A positive response to any question indicates there is a pre-existing condition which may affect your safety while diving and you must consult a medical practitioner, preferably with experience in diving medicine, to obtain a dive medical certificate that states you are medically fit to dive. The medical must be completed within 90 days of starting your dive course.
It is a dive course requirement that you be able to swim 200 metres or snorkel 300 metres and tread water/float for 10 minutes.
We recommend that you do not fly within 24 hours of diving. The earliest you should fly is 12 pm (midday) on the day after your trip concludes.