Please note this is a sample itinerary and some variations will happen between tours and locations due to our partners' schedules, but in general the itinerary will be very similar!
Day 1:
Welcome on arrival at Kochi International Airport and transfer to your hotel for a three-night stay in historic Fort Kochi. Enjoy a free day to rest, acclimatise and to explore the atmospheric old streets of Fort Kochi.
The glorious faded architecture is evidence of the various European trading nations who occupied Kochi in the 17th and 18th centuries. The trading port of Cochin remains a spice hub, with aromas of ginger, cardamon and cinnamon drifting out of the ancient warehouses by the harbour. There's so much to discover here
Dinner at one of Fort Kochi's excellent waterfront restaurants.
Day 2:
Our first textile expedition takes us by ferry from Fort Kochi to Vypin Island. This area was once the home of the weavers to the Rajah of Cochin, now providing an income for a small community of artisans, producing hand woven cotton saris, dhotis and household linens.
An hour's drive takes us to a Gandhian Khadi weaving centre where we will visit hand spinners in their homes and a hand-loom weaving co-operative run by local women to understand the weaver's way of life here. In the evening discover the colour and skill of a traditional Kathakali performance with its intricate makeup, flamboyant costumes and subtle gestures, followed by dinner at a recommended restaurant.
Day 3:
Take a six hour rice boat trip on the serene local backwaters south of Fort Kochi. Float silently through the lush vegetation of the lagoons in a sustainable, motor-less rice boat, and enjoy a delicious Keralan style lunch in a local waterside village, with a demonstration of local crafts. In the afternoon, experience life along the smaller waterways in a local, punted wooden
'snakeboat'
Day 4:
Experience a wonderfully scenic drive up into the mountains of the Western Ghats to the old British hill station and tea-growing centre of Munnar. Your hotel for three nights is set in the contoured greenery of the tea gardens. Enjoy a walk around the surrounding cardamom and tea gardens with a knowledgeable guide before dinner.
Day 5:
Join into a captivating two-day workshop hosted by Aranya Natural at the renowned natural dyeing and printing workshops of SRISHTI. Immerse yourself in the art of using natural dyes to craft exquisite textiles and garments, employing age-old decorative techniques like wax resist block printing, clamp, and tie dyeing. In this hands-on workshop, you will have the opportunity to try your hand at these skills and gain valuable insights into the world of natural dyeing.
Day 6:
As the two days unfolds, you will witness your creations come to life, revealing the harmonious blend of tradition and creativity. At the end of each fulfilling day, you can explore the bustling Munnar town bazaar, where a delightful array of spices, teas, and specialty chocolates awaits. Finally, retreat to our inviting hotel and relish an inclusive dinner, reflecting on the newfound knowledge and unforgettable experiences of the workshop. Don't miss this chance to unlock your artistic potential and delve into the fascinating world of natural dyeing.
Day 7:
Experiment with eco-printing with marigolds and native leaves today and complete your creative natural dyeing projects at Aranya Natural. Visit their extensively stocked on site store to see their beautiful collection of silk and cotton scarves and garments. An inclusive dinner will be provided at your hotel this evening ready for an early start in the morning.
Day 8:
Visit to Ethicus tells the story of organic cotton from seed to sari. Starting in the on-site cotton ginning facility to understand how organic cotton is grown and processed, Depending on timings, we may then be able to see street sizing and warping and visit a small weaving village to meet the artisans there. After a traditional lunch we can see the cotton yarn being hand woven by the centre's weavers into beautiful sarees in stunning colours and designs. This ethical and sustainable company are now teaming up with artisans that specialise in regional forms of hand decoration in other states of India, creating sumptuous effects. After a short drive to our hotel enjoy a swim before an inclusive dinner.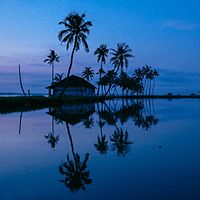 Day 9:
A short drive back into the lush paddy fields and banana plantations of Kerala takes us to two remote rural craft villages, Peruvamba and Vellinezhi, to immerse ourselves in the crafts that contribute to the flourishing traditional culture of Kerala.
We'll see pottery making, weaving and carving the colourful ornate wooden headresses and decorations worn by Kathakali performers,
This whole area is immersed in traditional arts and crafts whose artisans still provide the famous temples of this region with musical instruments, mural art, pottery making and the gold bordered Kerala sarees and mundu, the male dress worn for temple festivals.
Another hour takes us to our countryside heritage farmstay near Ottapalam, with a lovely pool and often a resident elephant.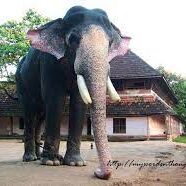 Day 10:
Learn how the complex gold and silver zari borders of the plain unbleached cotton Kerala saree are achieved on the Jacquard loom today on our visit to the famous weaving village of Kuthampully. This tiny village has been devoted to weaving this iconic form of dress for the past 500 years and the gentle sound of the hand loom comes from almost every home that you pass.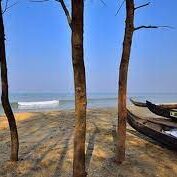 Day 11:
Experience the Indian Railway system today on the scenic route to a remote and unspoilt beach resort for four nights, near Kannur in North Kerala that provides inclusive delicious traditional Keralan home cooked dinners. You'll have time to unwind before we explore the rich cotton weaving heritage of the Kannur area. Experience the famous and unique north Keralan ritual of Theyyam during our stay in Kannur, where dedicated performers in magnificent colourful costumes and makeup, actually manifest as the various Hindu gods as they re-enact traditional stories and perform feats such as fire walking.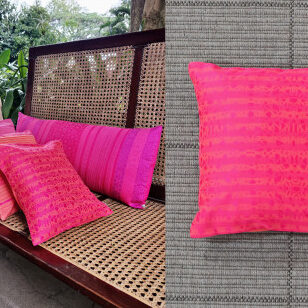 Day 12:
A free day to relax and explore miles of unspoilt beaches, watch the fishermen bring home the night's catch, enjoy watching the sun set over the Arabian sea followed by an inclusive Keralan home cooked dinner. Ayurvedic massage and treatments are available nearby.
Day 13:
Explore one of Kannur's thriving co-operative handloom weaving workshops this morning. The warping, winding, dyeing and weaving processes will be explained as you tour the workshops. After lunch at a nearby restaurant, we delve into the rich cultural life of the region at the Kerala Folklore Akademie, based in a stunning traditional Keralan palace.
Day 14:
A flexible day to explore the shopping possibilities for fabrics, handloom, hand woven bed linen, khadi and sarees, in nearby Kannur, or try your hand at weaving with the flying shuttle, (by arrangement), at a nearby master weavers workshop. Or simply enjoy another glorious day on the beach.
Day 15-21:
Tour ends. Depart to Bangalore or extend your travel to addon 5-7 nights to include visits to Mysore and Bangalore or a bespoke tour anywhere in India